If you need to backup your precious data – be it photos, videos, music or documents – but can't find the time to do it, let Hewlett-Packard's new SimpleSave external hard drives do it for you.
Protecting personal content with SimpleSave is as easy as plugging the drive into a USB connection, so families can feel confident that their precious memories are safe.
"With SimpleSave, once connected, backup is automatic and virtually hands-free," said Jason Zajac, vice president and general manager, Personal Systems Attach Group, HP. "As the worldwide leader in personal computing, our goal is to make technology simple and useful, ensuring no learning curve and no complicated choices to make."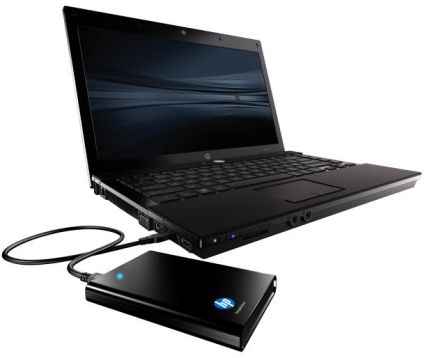 The new SimpleSave hard drive family consists of two products: SimpleSave Portable, available in 320GB and 500GB capacities and powered by USB 2.0; and SimpleSave Desktop, available in 1TB and 2TB capacities, which require an external power supply. 
In addition, the 2.5-inch portable model is designed with a shock-resistant case to protect the drive from the bumps and jolts of everyday usage. 
The hard drives are designed with heat-dissipating cases that stay cool and run quietly without a fan. 
Both devices feature the preinstalled SimpleSave backup software that automatically finds and backs up the data on the PC. After the first backup, it is smart enough to only save updates and changes.
A single drive can be used to back up all the PCs in the home, with data from each PC clearly identified by name on the drive to make finding and restoring a specific PC's data a snap.
Other features include:
• Hundreds of file formats supported: Supports the most common file types for photo, music and documents including AAC, BMP, DOC, GDF, GIF, JPG, MP3, MPEG, PPT, PDF, TAX, TIFF and XLS.  
• Frequent backup update: Backs up new and changed files every time the PC is idle for five minutes.
• Plug-and-play storage: Ready to use when connected to a USB port.
• Support for large files: NTFS file system offers improved support for metadata and use of advanced data structures, improving performance, reliability and disk space.
• Two-year warranty.
The 320GB SimpleSave Portable will be available for Rs 5,510, while the 500GB Portable will cost Rs 7,450.
In the SimpleSave Desktop range, the 1TB hard drive will cost Rs 7,500 and you will have to shell out Rs 15,700 for the 2TB drive. 
Don't forget to Follow "
Freeapk4life.com
" on Facebook, Twitter and Instagram to encourage us.
Buy Best Green Tea in India