TCL is one of the worlds largest brands in the TV space, offering a diverse portfolio of products. The company recently launched a range of 4K TVs, including 4K QLED TVs and a flagship 8K QLED TV in India. The flagship 8K QLED TV launched is the X915, their premium 4K QLEDs which is the C815 and then there is the entry-level 2020 QLED – the C715. You can read about all the TVs in detail here. Today we have with us the entry-level TCL C715 4K QLED TV. The 65-inch variant has a sweet spot pricing of Rs 79,990 and the 55-inch variant is priced at Rs 55,990. Are these TCL QLED TVs the ones to consider? 
TCL C715 QLED Android TV: Specs at a glance
Panel Size: 65-inch (available in 50 and 55-inch as well)

Panel Type: VA LED

Panel Resolution: 3840 x 2160 – 4K

Panel Refresh Rate: 60Hz

HDR 10 support: Yes

Dolby Vision Support: Yes

Weight (with stand): 19.kgs

HDMI Ports: 3

USB Ports: 2

Bluetooth: Yes

Wi-Fi: Yes

Ethernet: Yes

Speakers: 30W

Built-in storage: 16GB

Price: MRP: 79,900
TCL C715 QLED Android TV: Display and Picture Quality
Let's dive into the thing that matters the most first – display and picture quality. The TCL C715 4K QLED TV has a VA panel with support for 4K resolution and HDR 10, HDR 10+ along with Dolby Vision. For Dolby Vision content it has two settings – Dolby Vision Bright and Dolby Vision Dark. We will run through all of this in the sections below but let's get a few burning points out of the way. The TV has a QLED panel, which we last saw on the OnePlus Q1 Pro we reviewed earlier. The TCL C715 had the same yellow tint with some HDR content, a problem we saw with the OnePlus TV as well. However, once we told TCL about the problem, they issued an OTA update to the TV. We will delve into this in more detail below. The TCL C715 has a VA panel which means it can produce good black levels but will compromise on the viewing angles. Let's dive in and see how the TCL C715 performs in our suite of content tests. 
TCL C715 QLED Android TV: 4K and HDR Performance
There is an abundance of 4K and HDR content available via services like Netflix and Prime Videos for you to take advantage of HDR content on the TV. While Netflix has a large portfolio of Dolby Vision content, a lot of the content on Prime Videos is in HDR 10 or HDR 10+. YouTube also has a portfolio of content in HDR 10 giving us streamable content on all available HDR standards. 
Starting with Dolby Vision, you get two presets to choose from – Dolby Vision Bright and Dolby Vision Dark. We played our standard slew of Dolby Vision content on Netflix which included Our Planet, Altered Carbon and many many more. Both the shows look beautifully immersive on the TV. In Altered Carbon Season 1 Episode 7, during the warehouse fight sequence, there is a good mixture of bright light coming in from the ceiling, along with the dark partition of the warehouse and the protagonist's black armour suit. The chinks in his armour are clearly visible, along with the details in his suit, which is really good. This is a detail that's lost on other HDR budget TVs.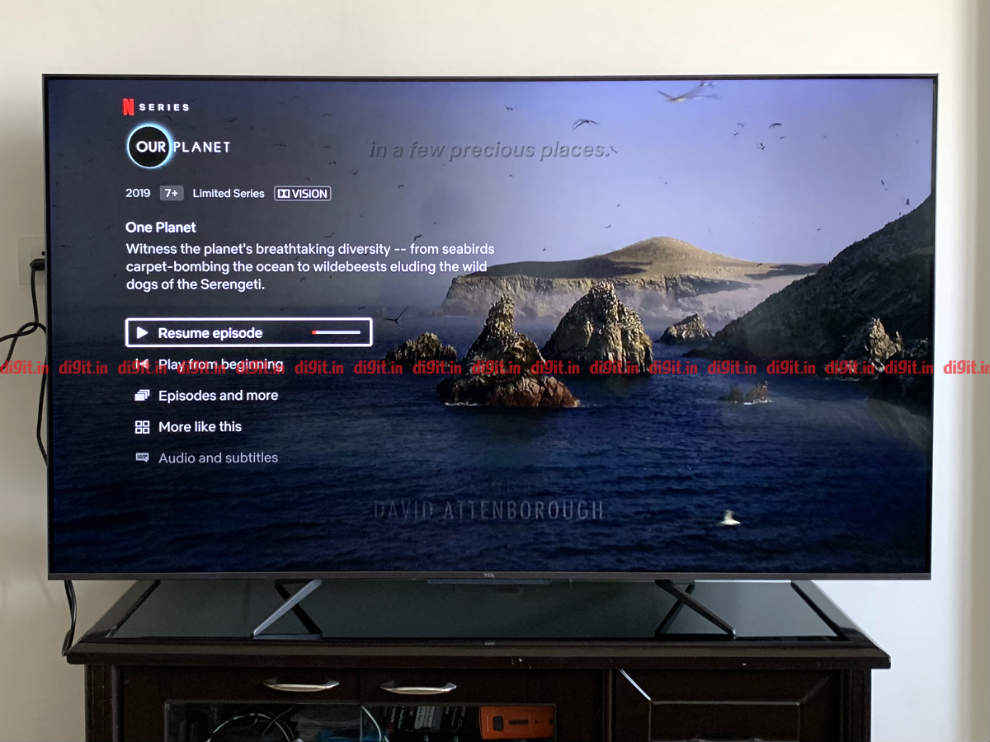 Moving over to HDR 10+ and HDR 10, we used Amazon Prime Video and YouTube for this, respectively. The content overall looks good but has a warmer tone to it, something we saw with the OnePlus TV. So for example, in the Grand Tour Season 1 Episode 1 where there are a lot of cars driving through the desert, there is a warmer tone to the colours that make the sand and the faces of people yellower than it should be. TCL issued an OTA update to the TV once we informed them of the issue. The warm tone in the overall scene did improve, but we still found that in some few select scenes there was a hint of warm colours, more than it should be. This is something most may not notice, but if you know what you are looking for, you will see it. It is only evidently visible during closeups of peoples faces in some scenes of our test clips.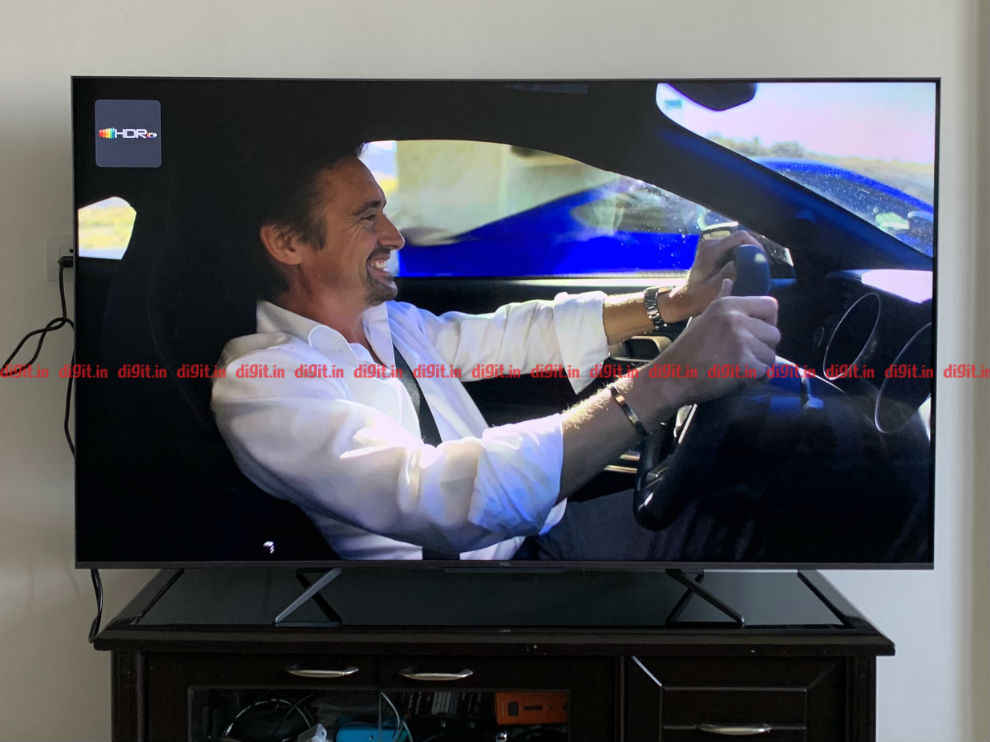 Same with the trailer of Blade Runner 2049 and Black Widow which is in HDR 10 on YouTube. Both trailers exhibited a warmer colour palette in some parts of the trailer and while the update did fix most of this, the faces are where it was noticed during closeups.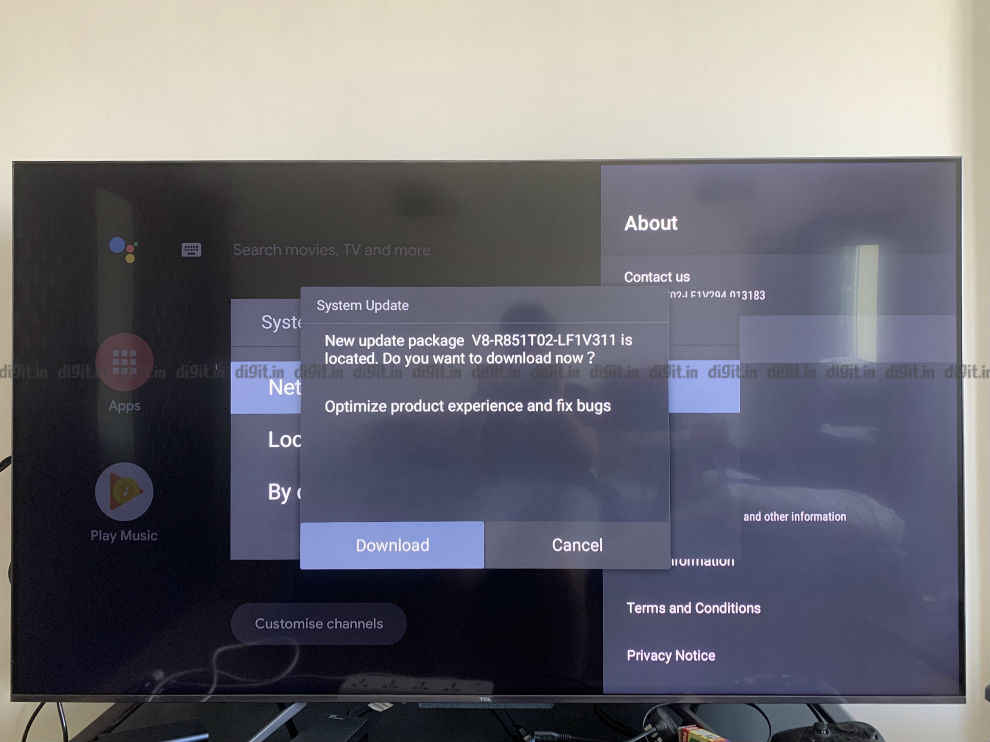 Overall, the Dolby Vision performance of the TV is fantastic and the HDR 10 implementation of the TV is good with minor hiccups. Using a 4K Fire TV Stick I also streamed the Dark Knight in Dolby Vision on the TV via the Apple TV app and the experience was really good with lush colours, deep blacks and the shining armour of the Dark Knight. 
TCL C715 QLED Android TV: FHD Performance
We played a lot of FHD content from the TV like Young Sheldon, Big Bang Theory, a lot of YouTube videos and more and FHD content is presented beautifully on the TV. Since this content is in SDR, the colour reproduction of SDR is good, and in the dynamic preset, brings out punchy colours some may like. In the Standard picture preset, the colours look true to the source and good. Even Spider-Man: Far From Home which has Spiderman in a black suit and a new red and black suit exhibited good, true to source colours which looked good on the TV. The Dynamic preset made the colours in this pop a little too much and the Standard preset was one that world well. 
Overall, FHD and SDR content consumption is great on this TV. Although it should be noted that SD and 720p content can exhibit some jagged edges. But then again, this is a 65-inch TV. 
TCL C715 QLED Android TV: Gaming Performance
This is where things get mighty interesting. We played Doom Eternal (review), Forza Horizon 4 (review) and Assassin's Creed Odyssey on the Xbox One X on this TV. A game like Doom Eternal which in HDR, looks really good. From the brightly blinking enemies waiting to be glory killed to the muzzle flash of the shotgun and demons appearing from portals, it all looked immersive. The colour reproduction was good and the TV switched to HDR on its own. I had to manually enable game mode though to help with input lag. Forza Horizon is another good example of HDR gaming on the TV. When travelling under the shadow of trees, the game sometimes would look dull on other budget HDR TVs but it looked bright on this one. Even the cars and environments looked bright and detailed.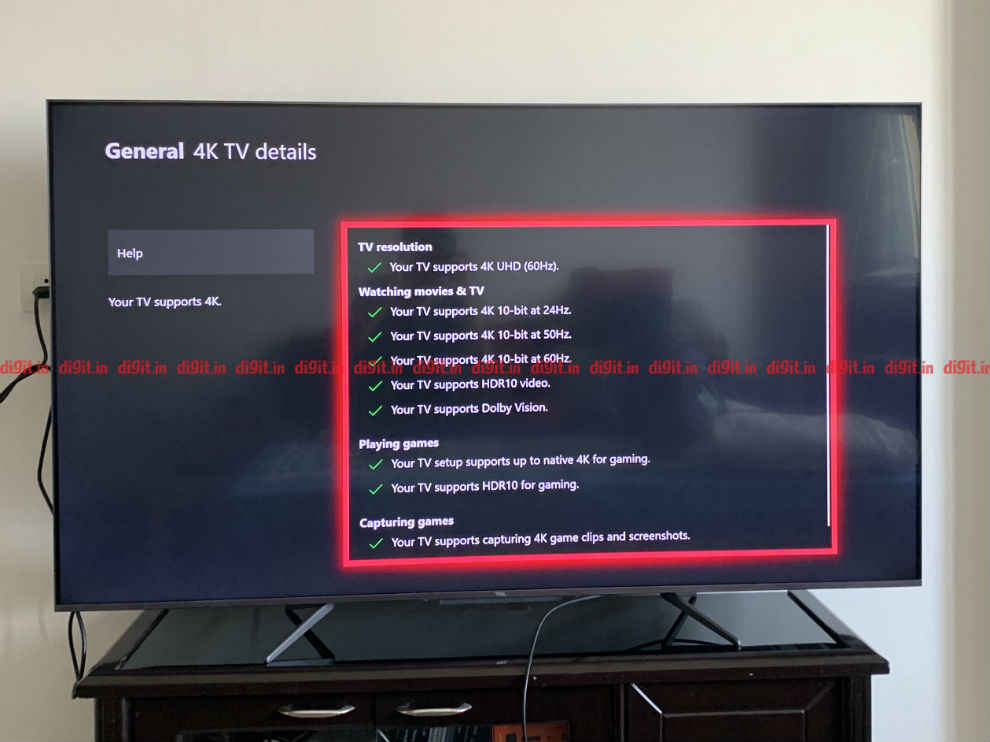 The TV supports 4K HDR and a refresh rate of 60Hz. It does not support HDMI 2.1 and HDMI 2.1 is preserved for the flagship 8K QLED TV. 
Overall, the C715 has a good QLED panel. It can reproduce some good colours in SDR and Dolby Vision. It is only with content that has a predefined warm tone and in some cases the skin tones of people that looks warmer than I'd like. 
TCL C715 QLED Android TV: Audio Performance
Unlike the TCL C815, the C715 does not bring with it sound from Onkyo. It has standard 30W downward-firing speakers and for watching regular TV, they get the job done. All the content we consumed above was played using the internal speakers of the TV and for the most part, they sounded good. The vocals in movies and TV shows were clear and there is some thump to them to enjoy movies. Where they fall flat is with games like Doom and movies like the John Wick series where there is a lot of bass-heavy gunfire mixed with rock music and the occasional dialogue. This is where the audio falters. But it is surprisingly good if you watch TV shows, documentaries or any content that has more emphasis on voice than the background score. 
One more thing to note is that even though the audio settings in the TV show Dolby Atmos as a setting, don't expect the sound to come from on top or behind you.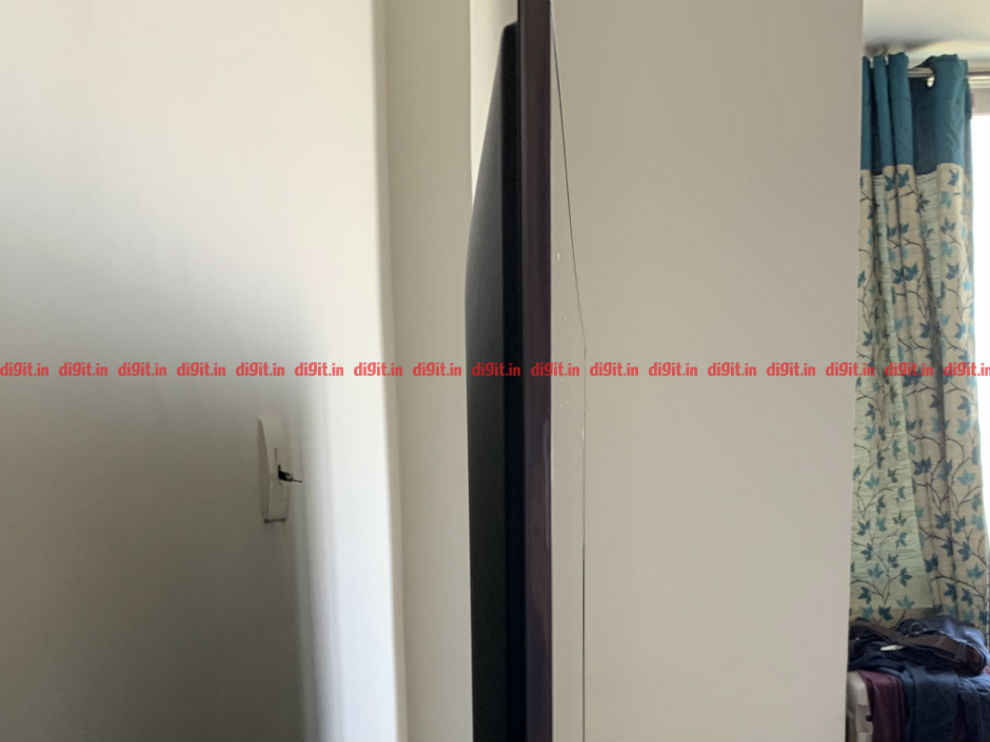 TCL C715 QLED Android TV: UI
The TCL QLED TV runs on the Android TV platform and it is the second TV I have seen that you can control using your voice without the use of the remote control. More on that later. The UI that you get with the TV is vanilla Android TV and there is little here to talk about that you don't already know. It has rows of apps you can customize, gives you access to the Play Store to download more apps and TCL says it will support the TV for the next 3 versions of Android TV. Android TV has been notorious for being slow on TVs and over the past few years, that reputation has dwindled as the OS has become smoother and more responsive. For the most part, the Android experience on the TCL C715 was fluid with the occasional app crash or hiccup, which is fine. It isn't as smooth as the Android TV experience on some more expensive Sony TVs but the "more expensive" comparison isn't a justified one.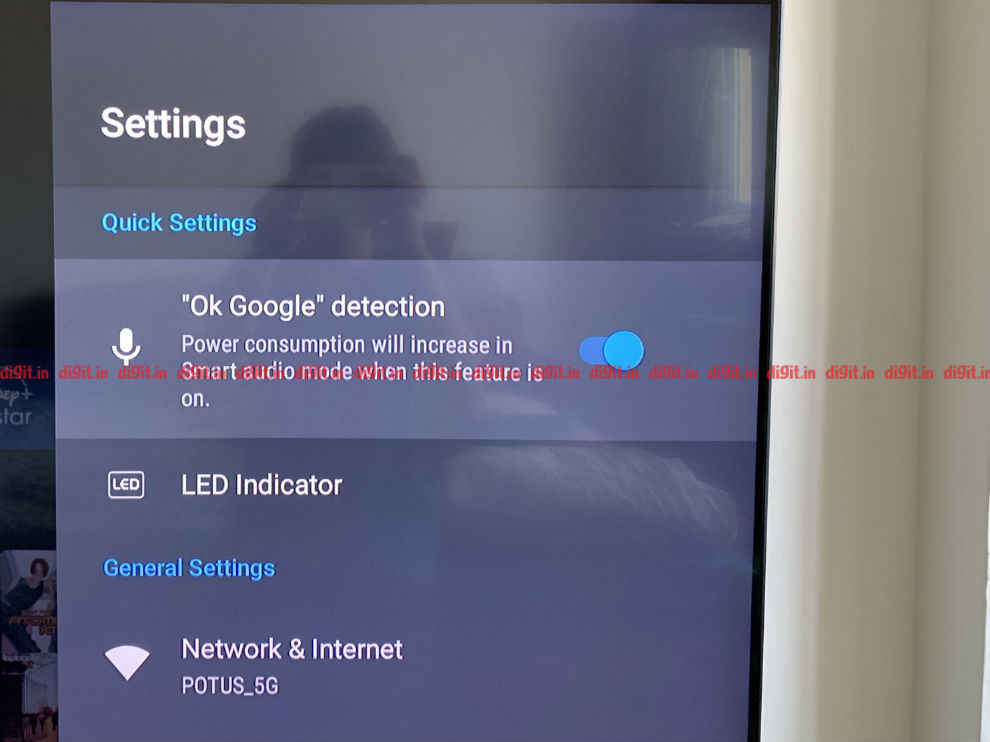 The far-field mics on the TV are a different story altogether. To begin with, there are 4 mics on the TV and you have to physically enable them using a toggle hidden behind the TV. Once enabled, you can go into the settings to enable or disable the hands-free voice recognition of the TV. While it does work, its overall performance is a hit or miss – quite inconsistent. I can say things like "Ok Google, Play Stranger things on Netflix" and it will comply. At other times, the voice prompt on the TV just hangs and I have to wait up to 15 seconds for it to reset on its own. Or resort to the remote control. As a function, at this stage, it is a hit or miss and not as fluid as we saw on the Sony A9G OLED TV (review).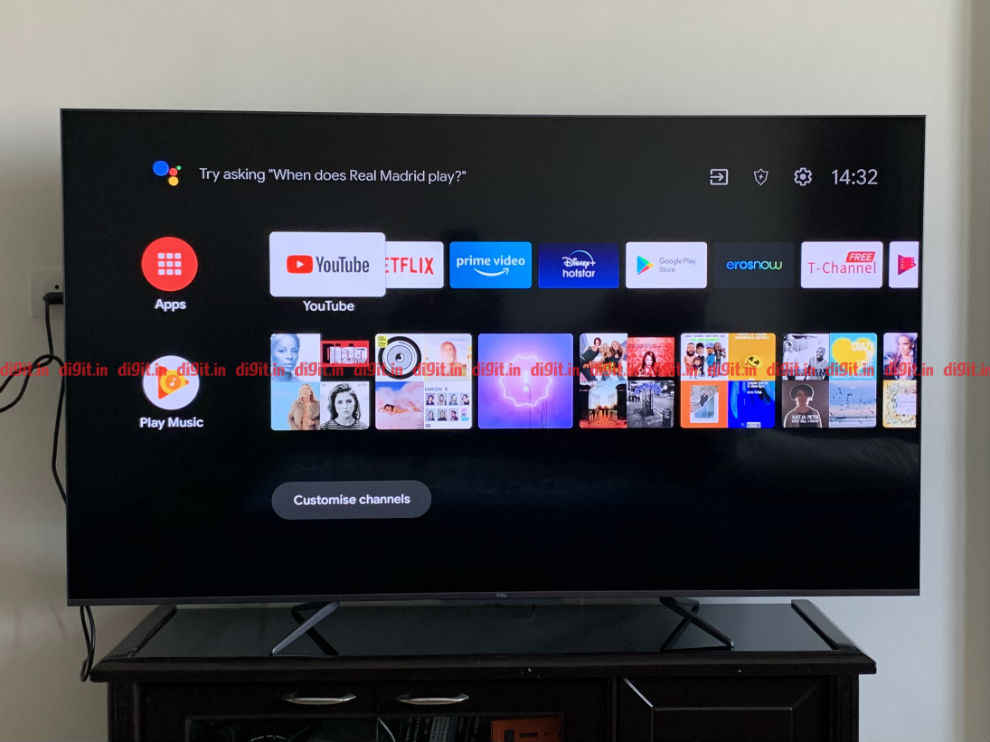 The picture settings on the TV are easy to find, simple to use and in case you change something by accident, you can always restore it to the default settings easily. 
TCL C715 QLED Android TV: Remote control
The TCL TV comes with a very minimalistic remote control with a curved back, giving it a good grip. It has a dedicated button to launch Netflix only and I would like a programmable second hotkey for Prime Videos or Hotstar or any other service I watch. The buttons are well laid out, self-explanatory and easy to use.  The TV has a good grip and fits well in the hands too. No complaints here.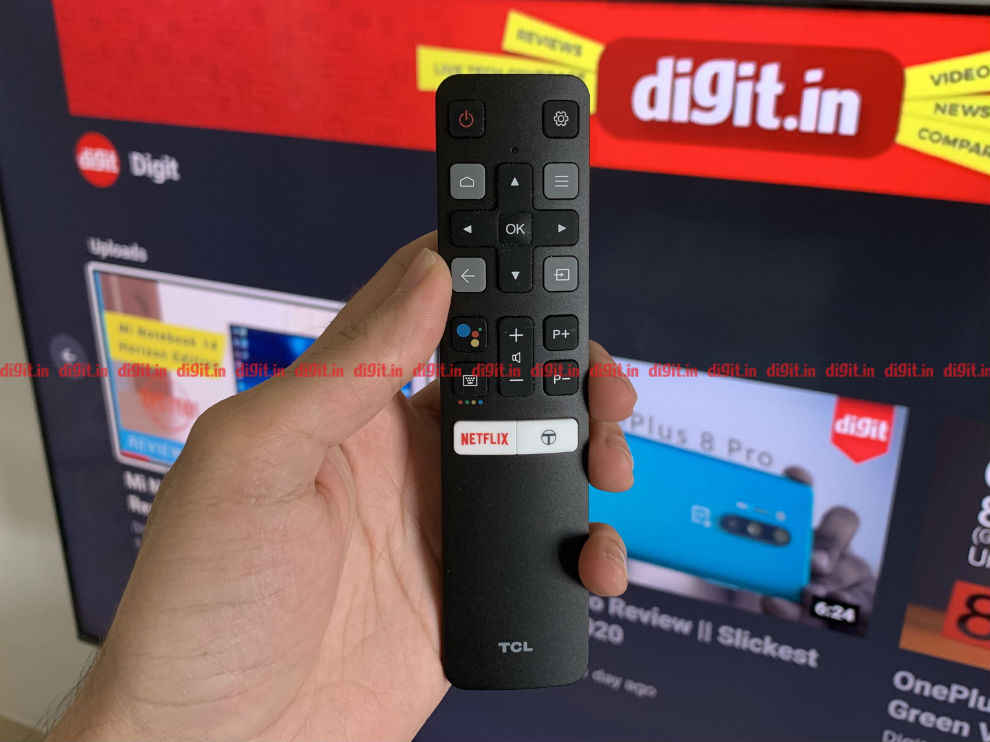 TCL C715 QLED Android TV: Build and Design
Finally, let's talk about the build and design of the TV. The TV isn't the slimmest one out there and that's ok, considering it is a QLED TV and comes with a whopping 1296 dimming zones. Despite this, it is hardly thicker than most flagship LED TVs and that's saying something. All the ports are neatly laid out on one side and there are no ports facing the back of the TV which makes navigating the ports easy when mounting the TV on a wall. For connectivity, the TV has 3 HDMI ports (HDMI 1 is ARC enabled), 2 USB ports, ethernet port, good old antenna, optical out AV in and headphones out. The connectivity options are plentiful and the TV also supports Bluetooth and both 2.4GHz and 5GHz Wi-Fi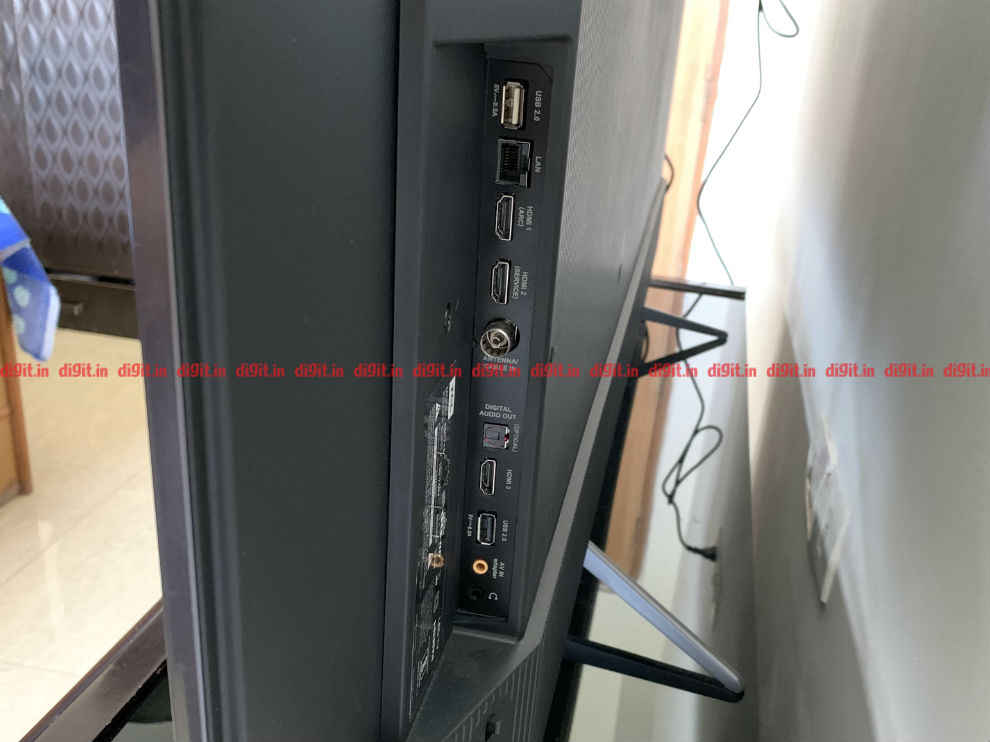 Coming to the bezels, the TV has really slim bezels which do not interfere with the viewing experience. There is a small LED strip at the bottom of the TV and you can choose to light this up when you use voice commands. But on its own, it is not intrusive and does not hamper the viewing experience.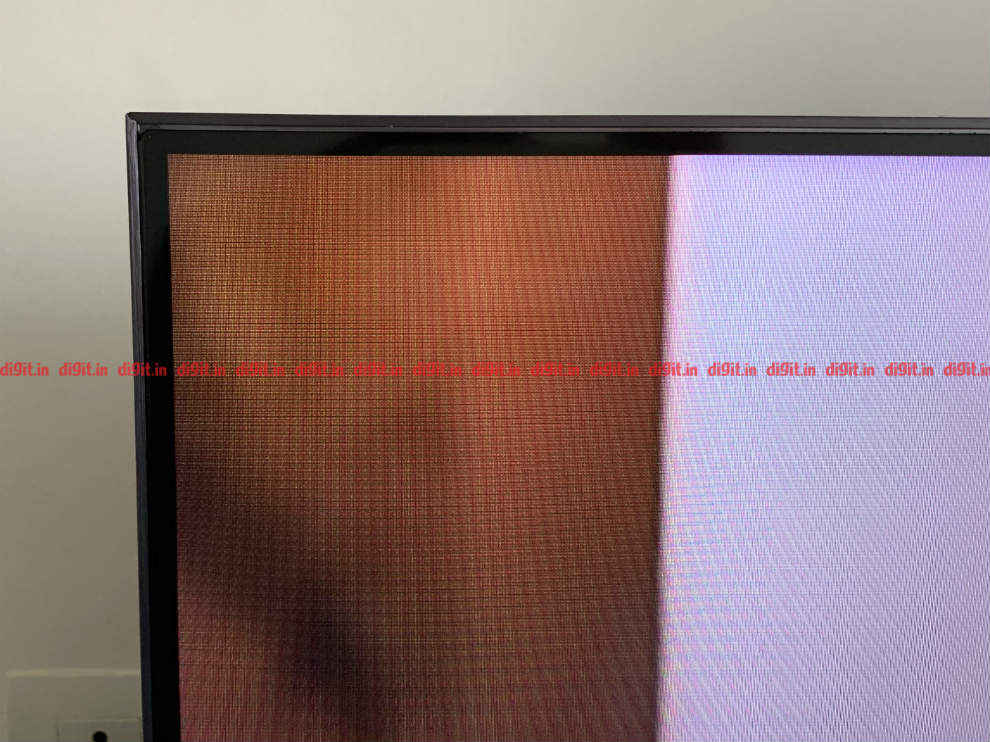 For those that want to put this 65-inch TV on a tabletop, there is good news for you. There are two positions for the feet of the TV. One is a wider position and the other a narrower one. The narrower position is the one we used. This helps you put a larger size TV on a smaller tabletop in case you do not have a very wider entertainment centre and need to place the TV on a tabletop.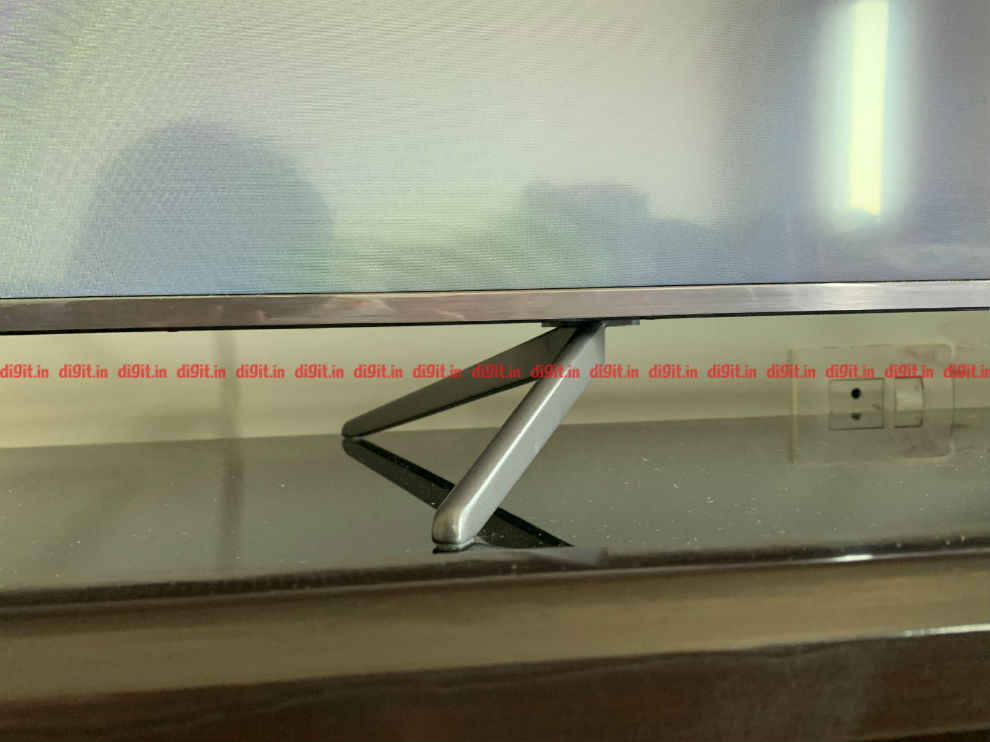 Bottom Line
The 65-inch TCL C715 finds itself in a sweet spot of Rs 80,000. There are few 65-inch TVs that come in this price range, so if size and QLED backlighting is something you are looking for, then this is a good option. However, this TV is also available in 55-inches and that's where the competition is heating up. The 55-inch variant of the TV is priced at Rs 56,000. Between 50 and 60K we also have TVs from brands like LG, Panasonic and more to consider. However, with the features on offer, the TCL TV does make a good case for itself. If it weren't for the warmer tone and sometimes buggy UI it would be easy to recommend this TV for the price. However, with the slight niggles and a OnePlus TV on the horizon, I'd say consider your options before making a purchase decision.
Don't forget to Follow "
Freeapk4life.com
" on Facebook, Twitter and Instagram to encourage us.